Business Professionals And Community
We're intentionally positioned in an office building among the business community of the Rockside Road corridor because we want to be a church of influence outside our walls. Some of the ways we have found to interface in the community include...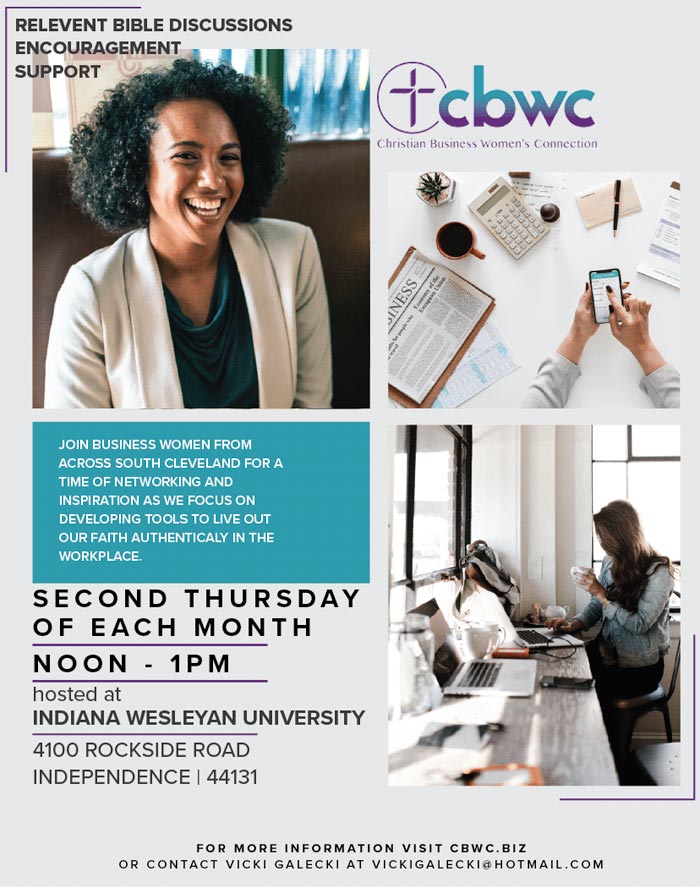 The Christian Business Women's Connection (CBWC) meets monthly in the building and with the assistance of Rockside Church. This hour long gathering, with coffee, happens the 2nd Thursday of the month. The discussion format with featured speakers looks at work-related issues through the lens of the Bible. We have prayer together and encourage one another to walk out their faith in Christ in the business world. It's an open invitation to any women interested.
We resource the community with free copies of SEEK GOD FOR THE CITY, a 40 day guide to pray for the city 40 days leading up to Palm Sunday. The guide is also available in Spanish, Chinese and for children online at www.waymakers.org by downloading the app called SEEKGOD2019.
CUYAHOGA VALLEY CHAMBER OF COMMERCE - Active members since 2002, we attend events, network, and participate with hopes of making our region a better place to work, live and worship.
TWENTY-FIVE AND ALIVE - A collaboration among educators, clergy, parents, city employees and students, the goal is to help students stay alive till 25 and make great choices. Our church is represented at the monthly meetings and we actively participate, particularly in co-sponsoring school assembly speakers with come-back events featuring inspirational speakers like Bob Lenz of www.lifepromotions.com.
NATIONAL DAY OF PRAYER is a textbook example of community collaboration providing 8 various locations, sponsors, participants throughout the day on the 3rd Thursday of May annually enjoying over a decade of momentum spearheaded by Rockside Church.
We find ourselves interconnected at various times in partnerships with the following friends:
KIWANIS - As an example that we can do more together. Kiwanis provides an annual grant that helps towards scholarships we provide to Kids involved in missions trips or summer camp at Heartland Conference Retreat Center. They help us get the word out for the National Day of Prayer and we promote and support their fund raisers.
CITY OF INDEPENDENCE - We regard it as the church's responsibility to pray regularly for our Mayor, city council, first responders and public servants. We're grateful for a cooperative relationship we enjoy with the city. Over the years, we have participated in HOME DAYS PARADE, running a cotton candy booth for the JULY 4 FIREWORKS FESTIVITIES and the following:

October Fest in September
Holiday Fest in December
Beach Blast in February
Volunteered with various summer children's events
Volunteer for Mock Interviews for Graduating Seniors
Pastor counts it an honor when called upon to open in prayer or city council meetings, the Memorial Day ceremony and Senior Citizen's memorial services.